Oživujeme kultúru konopy siatej
Zameriavame sa na výskum a vývoj nových alebo inovovaných konopných výrobkov
The ocean of possibilities
Let's revive the hemp culture together!
About the cluster
In a modern way, we continue the Slovak tradition of growing and processing hemp.
We focus on research and development of new hemp products or innovating already-known ones. We are a partner for farmers, industry, and technologically oriented companies. Together we are looking for ways to develop sustainable hemp production, which brings value to people. We do so in a cooperative, circular, and regional manner.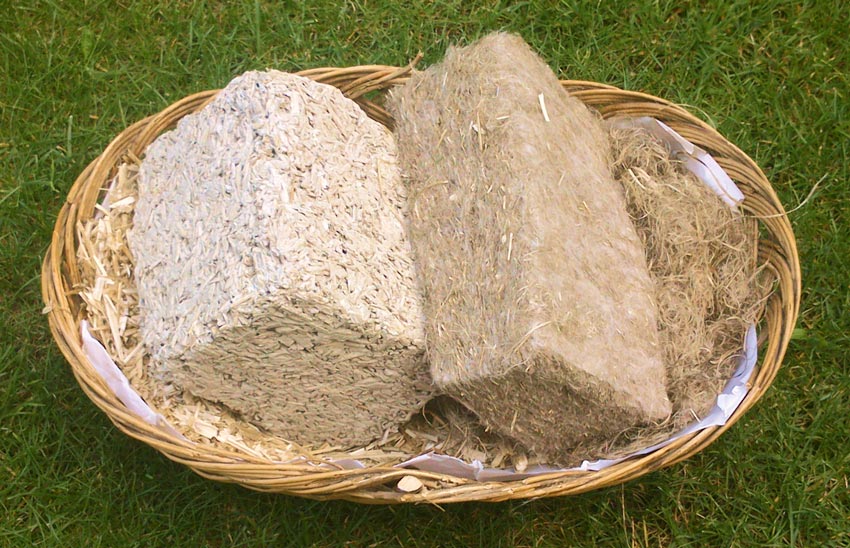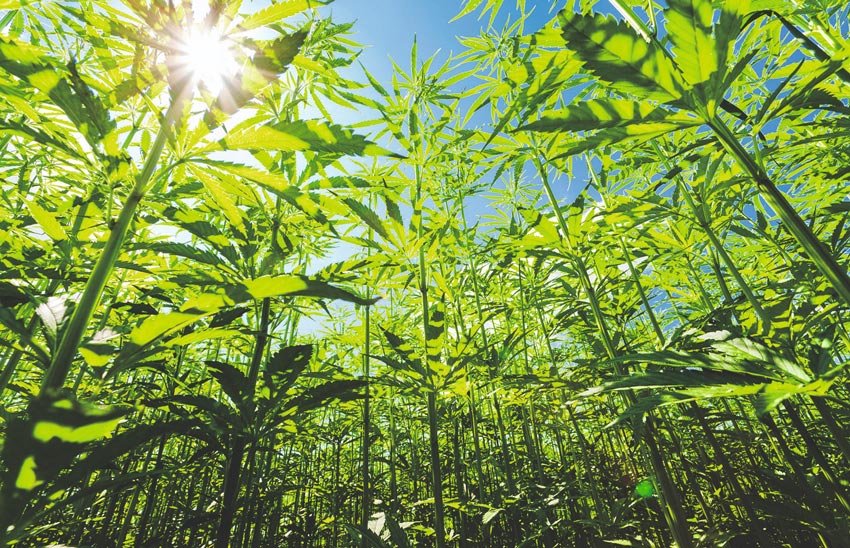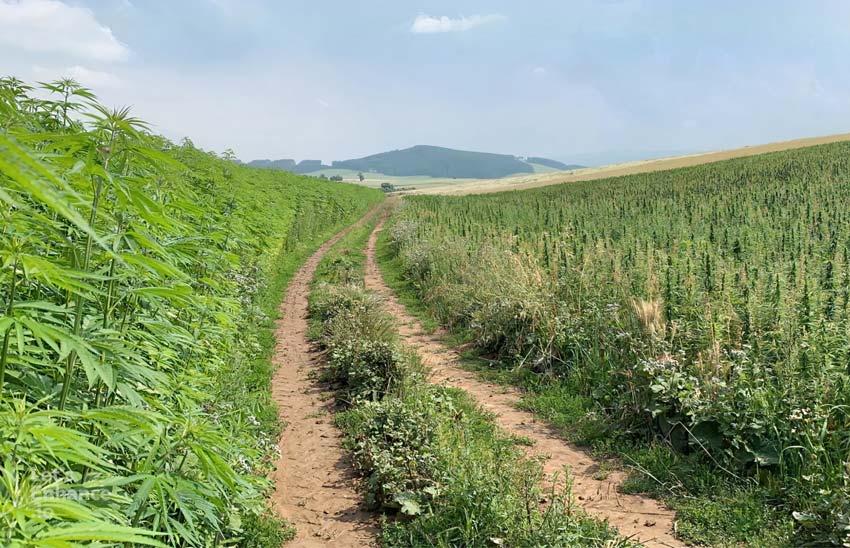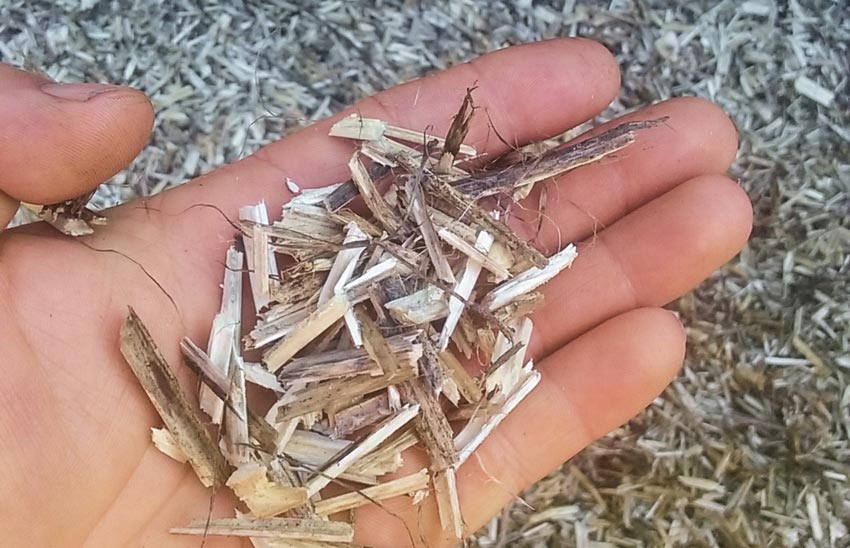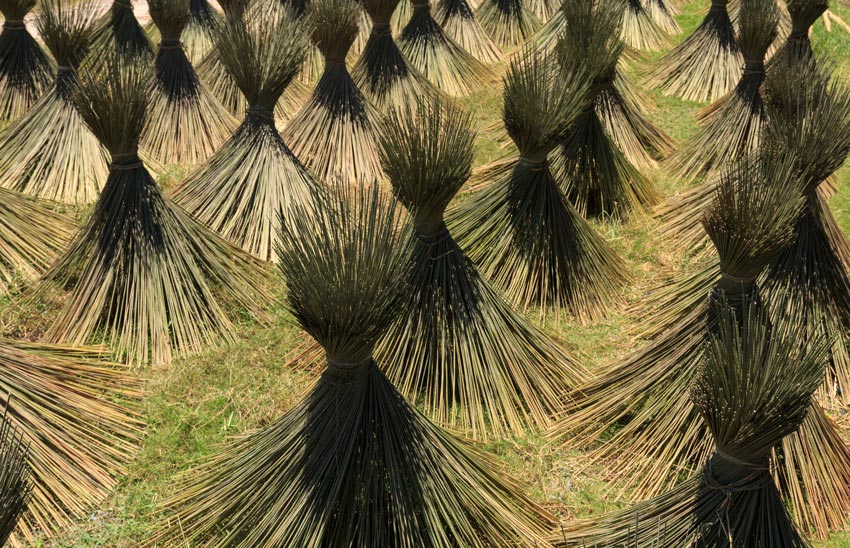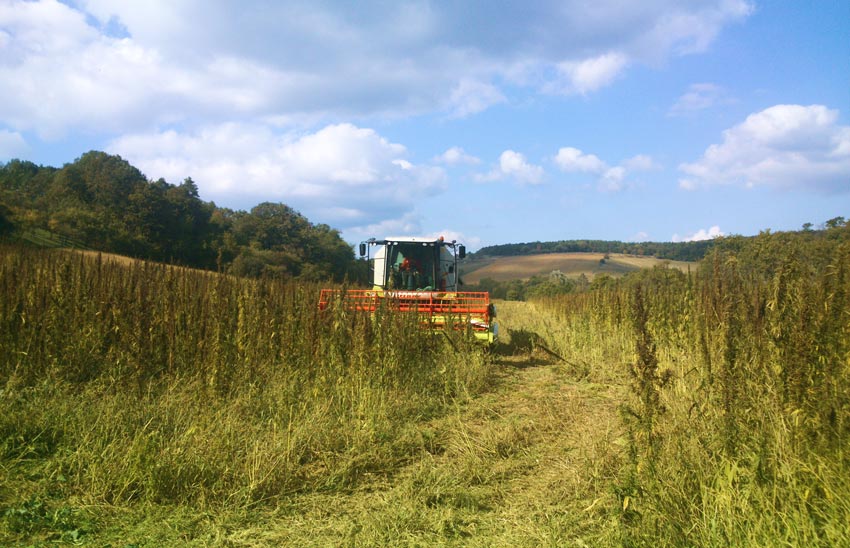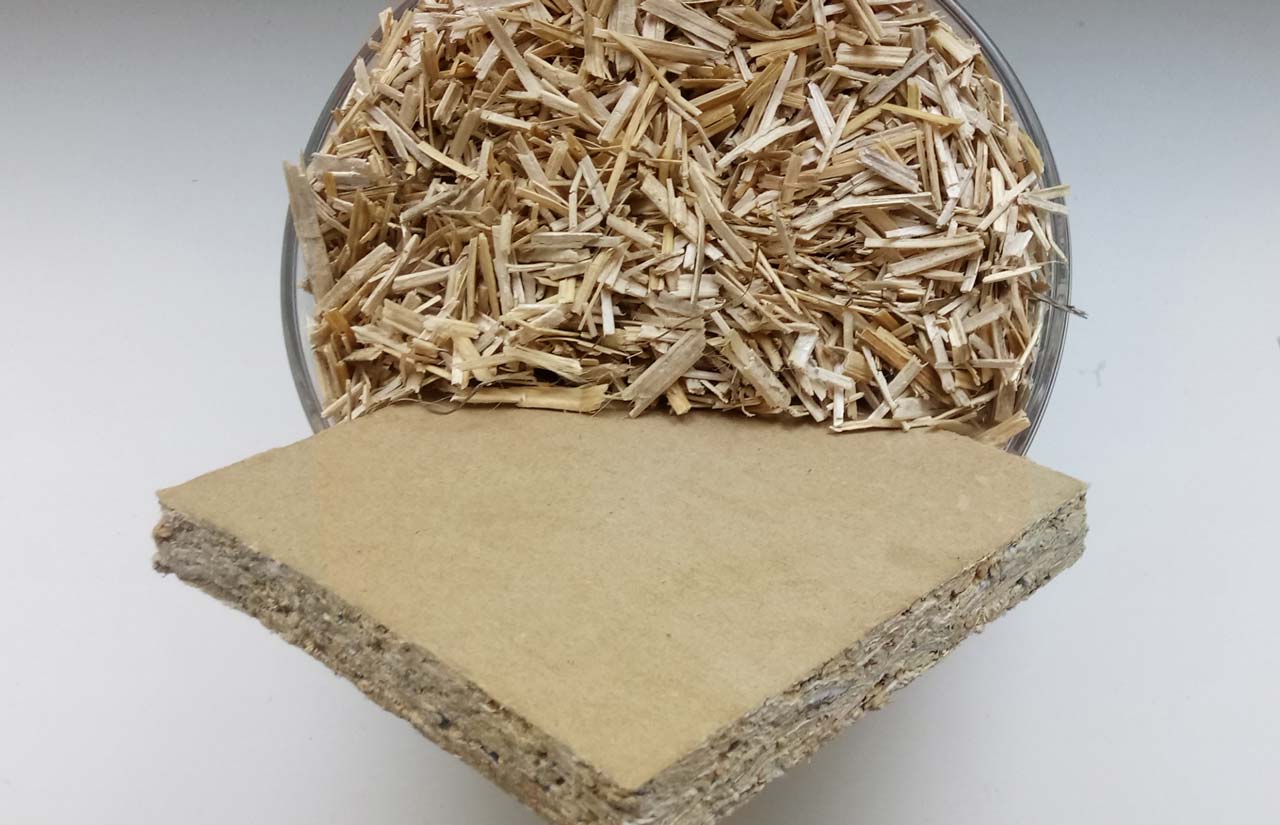 Development of particle board
The technology of pressed boards or panels from hemp shive is a "dry" way of hemp construction.

The first output is the board HEMREC 550. Compared to the usual products, this product brings a lower weight and releases the ecological burden. Prototypes focus on fully compostable binders so the boards can return to the biological cycle at the end of their life cycle. We consider this to be "real" recycling!
Dry technology
Innovations in construction mixtures
Hemcrete is a "wet" technology that is researched and modified in terms of active ingredients and their ratios, as well as with local resources.

These are modified filler and plaster mixtures that form a complete building system.
Wet technology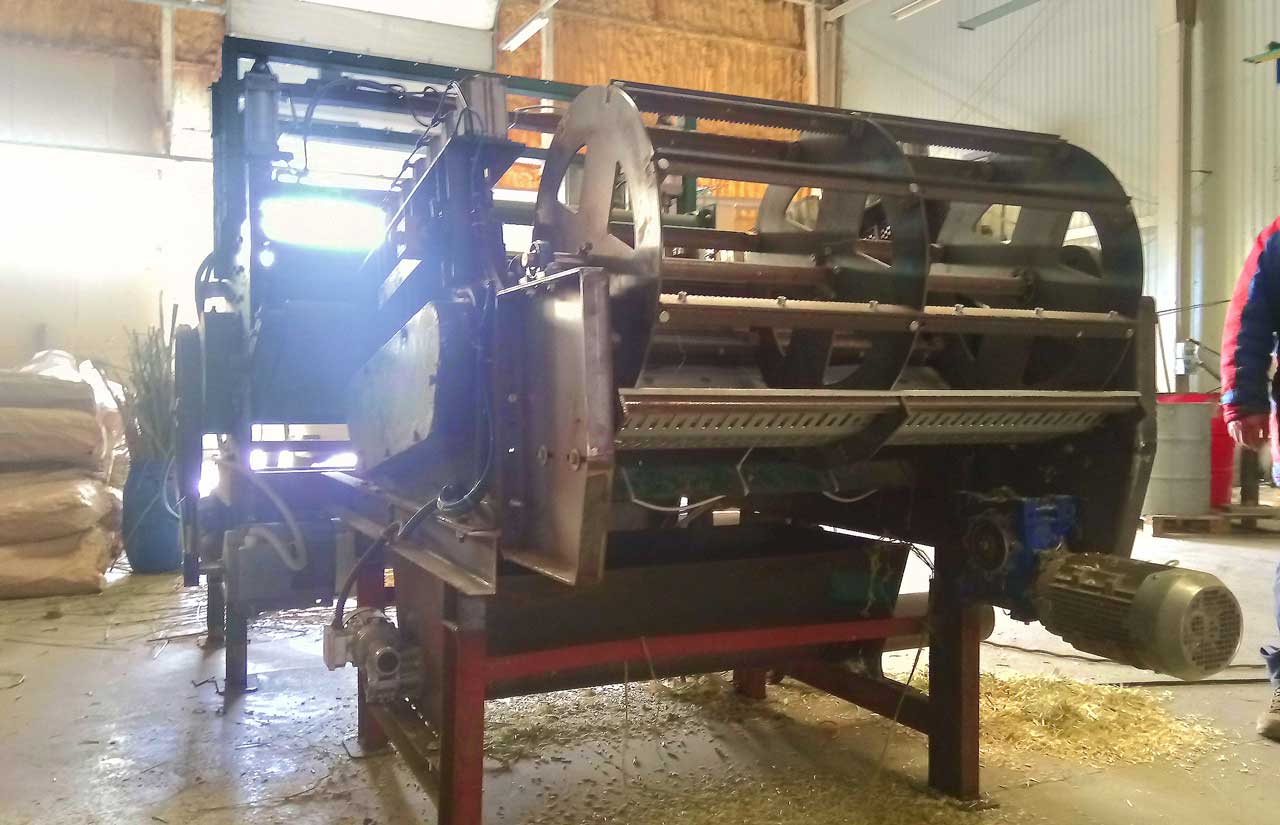 Development of machines and equipment
Machines and equipment for the primary processing of hemp stems are a current subject of development, ex.: in their mobile version for use in regional cycles.

Another group involves single-purpose harvesting machines and production lines. These are in use for the production of the mentioned construction materials.
Processing of the hemp stalks
Certificate
Management quality system
In December 2021, Hemp Cluster defended the re-certification of the Bronze Label European Cluster Excellence Initiative according to the European Secretariat for Cluster Analysis methodologies, whose Benchmarking Report is a source of information for the further development of the cluster organization.
FAQ
Answers to questions you might be interested in
What is the current legislation regarding hemp?
Slovak legislation with the amendment of Act 138/1998 Coll. on narcotic and psychotropic has aligned with the practice of the countries of the European Union. A farmer can grow selected hemp varieties using certified seed and declaring the area and variant to the PPA. Permitted varieties are listed in the catalog of crops of the European Union and contain a proportion of the psychoactive substance THC below 0.2%.
How to become a Hemp Cluster member?
Any legal person can become a member of the Hemp Cluster. However, important is that the person has identified himself with the ideas, values and development plan of the Hemp Cluster and is ready to follow the cluster strategy and help fulfilling its goals.
If you are interested in membership, please leave a message via our contact form at the bottom of the page.
Does Hemp Cluster sell its products?
Yes, we also offer products, such as HEMREC 550 particle board or the products and services of our partners and members.
Does Hemp Cluster provide services for non-members?
Yes. Hemp Cluster provides consulting and advisory services to non-members as well. If you need more info about hemp, please leave a message using our contact form.
How should I proceed if I am interested in learning more about hemp farming in Slovakia or how to grow hemp?
There are many ways to learn about hemp. You may participate in educational events hosted or co-hosted by Hemp Cluster or events where we are guests.
Another possibility is Hemp Cluster's paid consulting services. If you are interested, please leave us a message via our contact form.
What does cluster mean?
The cluster represents an interest association of legal entities. It is founded according to § 20f of the Civil Code to protect the interests of its members or achieve another purpose.
HEMP CLUSTER was founded in 2018 to support cooperation in the field of innovation and the creation of partnerships in hemp-related industries. It is one of the significant co-creators of the Slovak bioeconomy, with cooperation extending to neighboring countries.
Founders: Konopné družstvo, KURUC - COMPANY spol. s r.o., LAUDATOSI s.r.o., VU EXENEX z.s.
Project
Non-repayable Financial Contribution
From September 2021 to December 2023, as part of the cluster development strategy, we are implementing a project to develop research and development and innovation capacities, plus cross-sector networking of businesses.
Recipient: HEMP CLUSTER z.p.o.
Place of implementation: Družstevná 105, SK-97632 Badín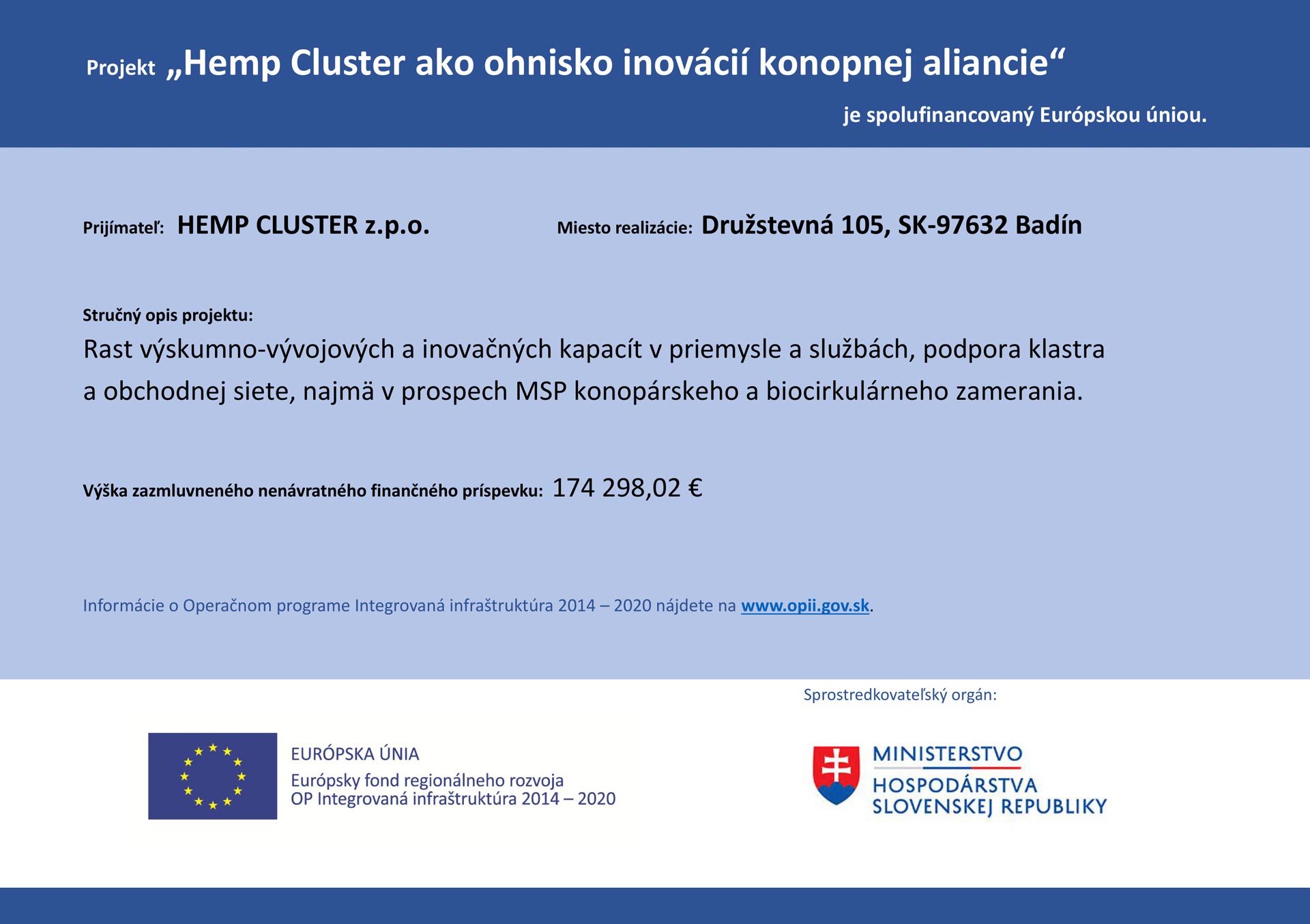 Hemp Cluster
Cluster management